While most indoor antennas come in easy-to-assemble kits and don't require a tool box, mounting an outdoor antenna is a bigger lift that can require some technical skills as well as getting on top of your roof or crawling into your attic.
So, if you're looking to go with an outdoor antenna, hiring antenna installers can not only help get the job done safely and efficiently, but the professionals know where to best position your antenna so you'll capture the most channels and get the best reception on your television screen.
While over-the-air (OTA) TV is completely free to watch, you'll need to purchase an antenna and have it installed to access all the free broadcasts.
But you may be wondering how to go about finding professional antenna installers who can get the job done. Here's a primer on hiring an antenna installer in your area as well as information about how much these types of installation jobs cost.
Why You Should Hire A Professional Antenna Installer
When it comes to mounting an outdoor antenna, it's best to do it on your roof or in the attic because those areas have fewer obstacles that will cause signal interference between the antenna and broadcast towers, according to Antennas Direct.
While this is a task you could perform yourself if you're comfortable on a ladder and have some installation skills and the proper tools, hiring someone in your area is a more seamless and safe route.
Professional antenna installers should know where the broadcast towers in your area are located, so they can position the antenna for best possible reception and they'll also know to steer clear of power lines and be able to take extra considerations in mind like using a waterproof sealant when installing the antenna mast. Plus, since nails are involved, you've got to be careful to not cause any punctures that could cause leaks in the roof.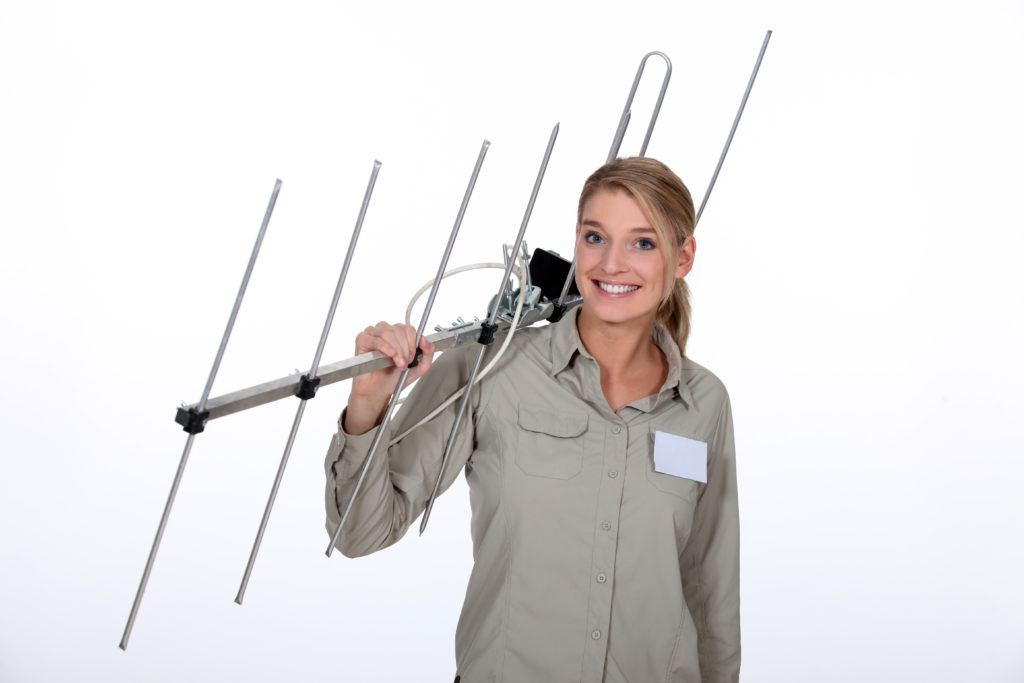 Where To Find Professional Antenna Installers
Here are some options if you're looking to find an antenna installer in your area:
Antennas Direct: Antennas Direct has a network of authorized installers who can help with antenna installation.
Sites like Angi and HomeAdvisor: Angi (formerly Angie's List) and HomeAdvisor are sites that connect you with local contractors in your area and allow you to compare quotes. You can search by job types, including antenna installation or replacements. HomeAdvisor and Angie's List merged in 2017.
A reference: If you've noticed your neighbors also have outdoor antennas, you could ask for a reference. Or you could post in a social media group like Nextdoor, asking those in your community for trusted recommendations for antenna installers.
Google search: To find an antenna installer in your area, type "TV antenna installer in (insert your city, state)."
Tips For Hiring Antenna Installers
When you're comparing quotes and deciding on who to hire to install your TV antenna, you can ask contractor candidates some questions about their skills and experience, and you can request references, too.
Here are some questions that you can ask when looking to hire antenna installers:
Are you insured?
Do you have any references?
What types of challenges have you seen with reception in my neighborhood and are there any solutions?
What do you do to prevent roof damage?
What type of antenna do you recommend I get?
What direction will you install my antenna to get the best reception?
How Much Does Antenna Installation Cost?
Outdoor antennas do cost more than indoor antennas, especially when you factor in the cost of installation. But the advantage of going with an outdoor antenna is that you'll get more channels and a stronger signal.
After you've found the best outdoor TV antenna (prices for great antennas range from $40 to $150), you're ready to have the equipment installed.
Expect to pay anywhere from $216 to $427 for outdoor TV antenna installation, according to estimates from HomeAdvisor. The average cost for most homeowners, though, is $309. Hooking up additional televisions can cost an extra $20 to $40 each.