Over-the-air television, or OTA, was the first type of television available. Originally, all TVs received audio and visual media through analog signals via basic, set-top antennas. Broadcasters aired programs over UHF, which stands for Ultra High-Frequency bands, ranging from 378 to 870 MHz, and VHF, or Very High-Frequency bands ranging from 49 to 216 MHz. These bands are similar to AM and FM in radio.
At the 1939 World's Fair in New York, David Sarnoff, president of RCA, unveiled the first commercial publicly accessible television broadcast. By 1948, 350,000 U.S. homes had television sets, which were all OTA TVs. A lot has changed since then — including the introduction of cable TV and the development of digital television signals — but one thing remains the same: OTA is still widely available and free.
OTA Today
In this era of constant, on-demand content, why would you want to bother with over-the-air television? There are actually several good reasons.
First and foremost, OTA is free. If you have a television and an adequate antenna, you should be able to watch a few basic local networks or even dozens of HD channels available in your area.
If you don't have cable, you could stream movies or live and on-demand shows but also catch up on local news, sports, weather and other free programming. You might be surprised to find a new favorite that isn't available on streaming platforms.
The quality of over-the-air HDTV (high-definition television) very clear because broadcast networks' signals are uncompressed.
What's On OTA Near Me?
If you have considered using OTA, you can find out what is likely available in your area. The Federal Communications Commission (FCC) has a webpage with DTV reception maps to check for the signals available based on your location. Enter your address, city or zip code, and the map will list all stations in your area.
Along with call signs and channel numbers, the map will supply data on the strength of each channel. For example, green is a strong signal; yellow is a moderate signal; brown is a weak signal, and red is no signal.
You can click on each call sign to learn more about the specific station. Also, most networks have websites where you can find the programming schedule.
How To Get Started Using OTA
To begin watching OTA TV, you will need an antenna. The best type of antenna for you will depend on your location. Outdoor antennas are usually more powerful and tend to have better, more reliable reception than indoor antennas. They are usually mounted on the roof, side of the house or in the attic. An indoor antenna can have great reception, as well. The quality of the reception hinges on the distance from the transmission tower and obstacles between the antenna and the tower that can cause interference.
After checking out the DTV reception map for your area, you will have a better idea of the strong signals that are available near you. Next, consider whether there are large obstacles, such as mountains and valleys, large trees, tall buildings, power lines or cell towers. Severe weather can be a factor as well.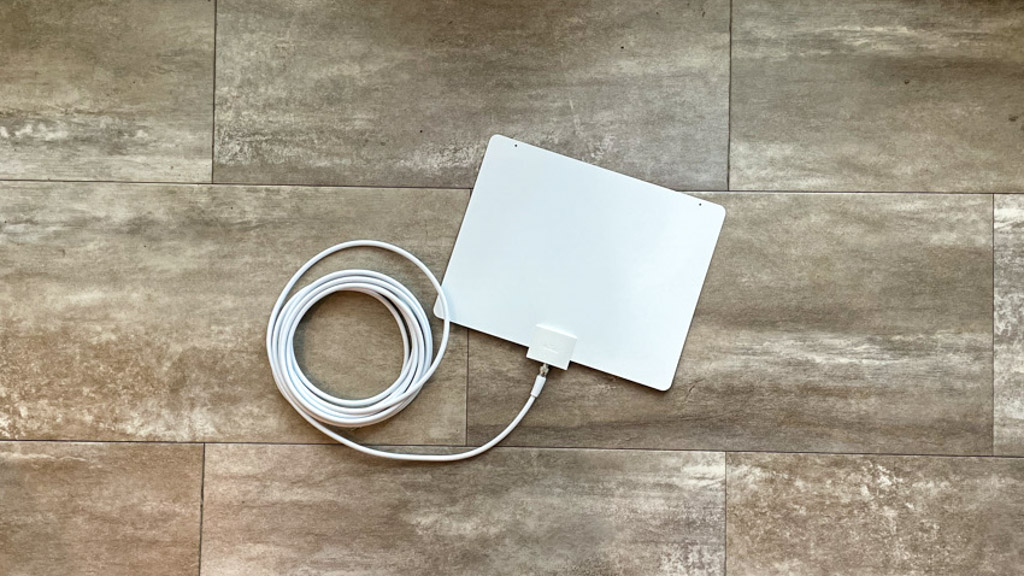 Fortunately, indoor antennas can be quite affordable, so if you want to try this method first, you can do so without investing a great deal of money. Most are flat, so they can be installed by attaching to a window, preferably facing the direction of a broadcast antenna, and the higher, the better.
If you're not sure where a nearby transmitter is located, resources such as AntennasDirect.com can help. When you enter your address, you will be provided with a map showing TV transmitters in your area. The radius patterns on the map show the distance of coverage between your location and the broadcast towers. This could also help you figure out whether there are obstacles between you and the transmitter.
Choosing the right outdoor antenna also requires consideration. Antenna Web, a site managed by the Consumer Electronics Association, can help you decide on the right one. Entering your location will offer station results as well as outdoor antenna recommendations. The color-coded table shows the antenna type recommended for receiving each station, from yellow for a small, multi-directional antenna to violet, denoting a large directional with a preamp.
If you want to keep up with local channels for free, OTA TV is the way to go. It can also be an excellent way to supplement your streaming with entertaining, live programs.
The History Of OTA And Cable
So, how did we get from the original OTA TV to the more modern technology we have today?
In the 1940s and 1950s, OTA was the only way to watch television, although it could be unreliable. The reception was often poor, and pictures were often fuzzy. Cable television was introduced in 1948. Unlike OTA, cable programming delivers television programming via radio frequency (RF) signals transmitted through coaxial cables, making it more consistent. However, years of progress passed before cable became commonplace.
By 1952, there were 70 cable systems nationwide serving 14,000 subscribers. Within a decade, nearly 800 cable systems were serving 850,000 subscribers. But until the 1970s and 80s, more American households were watching broadcast OTA television than cable programs.
DTV Is Developed
During this time, digital television signals were being developed. By the 1990s, digital OTA TV tuners were replacing traditional "rabbit ears" set-top antennas. In 1996, Congress authorized an additional broadcast channel to every full-power TV station to enable the stations to launch digital broadcast channels simultaneously. As technology progressed, Congress established a 2009 deadline for full-power television stations to stop broadcasting analog OTA signals altogether.
So, while DTV, or digital television, sounds modern, the technology has been in use for decades. The primary reason for this transition is that environmental elements that affect analog TV affect digital signals. Distance is the only factor that can interfere with DTV, as a digital receiver cannot convert the signal if it doesn't reach far enough. Any television sold after March 2007 must have a built-in digital tuner.
Are you ready to see what OTA TV has to offer today? Check out our guide for choosing the best antenna and start watching free TV today.