Over-the-air (OTA) TV is completely free to watch. The only significant cost associated with OTA television is buying an antenna, a once-and-done task. Once you install an outdoor TV antenna, you can get loads of free broadcasts, with an excellent return on your one-time investment.
An outdoor digital tv antenna can be a little more challenging to install than an indoor antenna but doing so can be well worth the effort. Outdoor television antennas can often pick up more channels than their indoor counterparts. In addition, outdoor television antennas are typically quite affordable.
If you live in an area with broadcast towers around in different directions, an omnidirectional outdoor TV antenna can receive signals from most, if not all, of them. This results in a seemingly endless supply of free TV shows and movies to watch.
If you live near multiple TV markets, you could potentially receive signals from more than one area, especially with an outdoor TV antenna.
An added benefit of installing an outdoor digital TV antenna is that you enjoy better picture quality.
And, although they are outside, TV antennas are not typically subject to the outages that satellite receivers often experience in rain or snow, allowing you to rely on your local broadcasts for vital information during inclement weather.
Our TV Outdoor Antenna Buying Guide
When you decide to purchase an outdoor TV antenna, there are several considerations to take into account. For instance, there are two primary types of outdoor television antennas. Directional antennas must face the transmission tower to receive a signal, while multi-directional or omnidirectional antennas can receive signals even if they are not pointing toward a broadcast tower. Therefore, if you are near multiple towers spread out in different directions, an omnidirectional outdoor digital TV antenna might serve you better than a directional antenna.
Outside TV antennas come in various sizes and can be small, medium or large. You can also choose between an amplified and a non-amplified electrically increase the ability to receive a weak signal. A pre-amp electrically increases the ability to obtain a weak signal on an outdoor antenna.  A non-amplified outdoor antenna for local channels can receive signals from nearby broadcasting towers without a connection to a power source but might not work as well if you are not in a strong signal area.
You should also determine which type of signal you need an outdoor TV antenna to receive. For example, some only receive VHF channels, which are channels 2 through 13. Alternatively, UHF antennas pick up all channels above channel 13. You can also look for a combination UHF/VHF TV antenna. The best way to determine what you need is by searching your location on the FCC's DTV Reception Maps, where the search results will show whether UHF, VHF or a combination of the two are the strongest signals in your area.
Another factor consider is the distance rating. Outdoor television antennas can be rated for as few as 20 miles and as many as 150 miles or more with a long-range TV antenna. However, most people who use an outdoor antenna for local channels can expect to pick up signals from local broadcast towers within about a 35-mile range in real-world conditions. Those who live further out and away from obstructions might receive TV signals from towers up to about 70 miles away. At that point, the earth's curvature begins to affect over-the-air reception.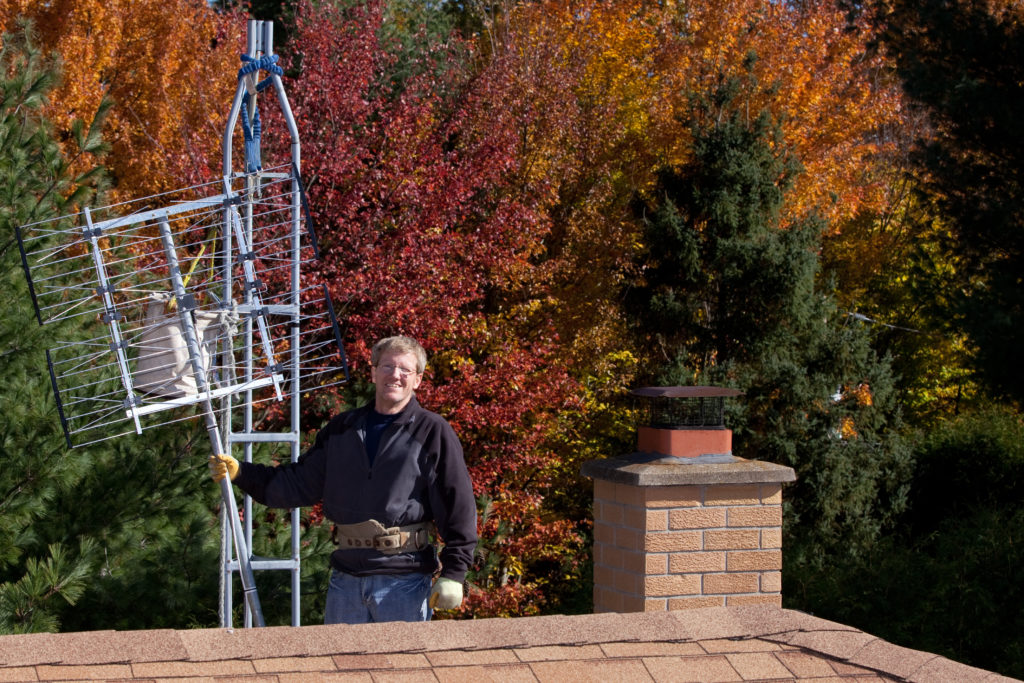 Our Picks For The Best Outdoor HDTV Antennas
UHF/VHF HDTV Antenna w/LTE Filter
Designed as an outdoor digital TV antenna with a low visual impact antenna, this minimalistic antenna was explicitly designed with locations where aesthetics are essential, such as storefronts, historic buildings and homes with strict HOA regulations. The seven-element Yagi directional antenna can receive channels 7 through 40. A U-bolt and bracket to mount to a pole in a vertical or horizontal orientation are included.

Long Range Outdoor HDTV Antenna
This high-VHF and UHF long-range outdoor TV antenna delivers a 45-mile range for clear, uninterrupted local channels. Precision mounting provides ultra-efficient transmission of digital signals. It can be mounted outside or in an attic and includes the hardware necessary for mounting to a mast.

Long Range Multi-Directional Outdoor TV Antenna
The EXTREMEtenna is a multi-directional outdoor antenna that receives high definition and digital signals from a span of 180 degrees. It has a reception range of up to 80 miles and its compact size makes it easy to install on your roof, wall, balcony, attic or even an eave. This antenna for local channels comes preassembled with mounting hardware and an installation guide, but the mast and coaxial cable must be purchased separately.

Attic or Roof Mount TV Antenna
One of the best attic antennas, the RCA Outdoor Yagi antenna receives HDTV broadcasts for both UHF and VHF stations within 70 miles from broadcast towers. It is durably constructed to withstand severe outdoor conditions. The pre-assembled design with an easy-lock fold-out UHF reflector and snap-lock elements makes for uncomplicated installation. A mast, locking mast clamp, mounting hardware and 75-ohm matching transformer are included, but the coaxial cable must be purchased separately. You can also download the free RCA Signal Finder app to find the most high-definition channels and align your antenna with ease.

150 Mile HD Digital TV Antenna
This Vansky outdoor TV antenna receives digital UHF and VHF signals. With a built-in rotator for TV antenna, it can turn a full 360 degrees using the included remote control. The antenna has an integrated low-noise, high-gain amplifier and assembles in minutes. Along with the infrared remote, it includes a control box with dual TV outputs and a 32.8-foot RG6 coaxial cable. You can mount it onto a pole up to 1″ in diameter, however, no pole is included.

Outdoor VHF/UHF HDTV Antenna
This outdoor digital TV antenna can receive both VHF and UHF signals from up to 70 miles away. The compact size makes it easy to install anywhere, and it can be connected to multiple TVs using a splitter, which is sold separately. Durably built, the antenna has been tested for endurance, withstanding exposure to salt, fog and winds over 100 MPH. The antenna includes an embedded Boost ultra-low noise amplifier, inline 5V power inverter, 3-foot USB power cable with 110V adapter. and mounting bracket.
Pair your antenna with an OTA DVR to record your favorite shows:
Here are the products we recommend:
If you have an external hard drive sitting at home collecting dust, consider these options as cheaper alternatives. Simply connect your antenna and portable hard drive to these Tablo DVR devices and you're ready to go.
Tablo DUAL Lite: Equipped with built-in Wifi, it lets you position the antenna and DVR for the best signal reception.
Tablo QUAD: Record up to four OTA channels simultaneously. This model connects to your router rather than your TV, giving you the option to stream live TV to any device.
If you need to purchase a portable hard drive, we recommend USB-connected portable hard drives (USB 2.0 or 3.0, 1 TB to 8 TB in size). These are the ones we recommend: WD 1TB Elements Portable External Hard Drive and the WD 2TB Elements Portable External Hard Drive.
Tips And Advice For Outdoor Television Antennas
You can mount an outdoor TV antenna on your roof, the side of your house, on a tripod in the ground or even on a deck. The higher you are able to install it, the better your reception will likely be.
Before you permanently install an outdoor digital TV antenna, test the reception where you plan to mount it. To test before installing the antenna, connect the coaxial cable to both the antenna and your TV. Then, place the antenna where you want to install it and turn on the television. Next, use your remote to perform a channel scan and when it has been completed, go through the channels to check for quality issues or interruptions. This way you can be sure to install the outdoor digital TV antenna in a location that provides the best signal and the highest number of available channels.
There are vital safety issues to bear in mind when installing outside TV antennas. Be sure to follow all required electrical codes and guidelines for your area.
Use a grounding block connected to the building ground. A grounding block can help protect your equipment from thunderstorms and power surges. It can also minimize or prevent electromagnetic interference. Not to mention, a grounding block may be a legal requirement where you live.
Watch for power lines and avoid installing your outdoor TV antenna on a windy day, as doing so could result in complications and even life-threatening accidents.
Once you have found the ideal location and installed your outdoor digital TV antenna, be sure to secure it using the hardware provided.