Subscription TV viewing services can seem very affordable at first. For example, you might receive a special deal when signing up for a service, only to be locked into a contract at a much higher rate down the road.
Or you may think that $8, $12 or even $20 a month isn't a huge expense when adding a streaming channel, but those seemingly small amounts can add up when you keep paying for several services month after month.
The Cost Of Pay-TV
You're certainly not in the minority if you currently pay to watch TV According to a 2021 Pew Research Center survey of U.S. adults, 56% of Americans use cable or satellite services to watch television. And as for streaming, 78% of U.S. households subscribe to at least Netflix, Amazon Prime or Hulu, and 57% of homes have four or more subscription services.
DecisionData found that the average household spends $217.42 monthly on cable, or $2,604 yearly. And J.D. Power reports that, on average, streaming services cost Americans $55 a month — $660 a year.
Dishing out upwards of $3,200 a year to watch television seems expensive. Consider what else you might do with an extra $3,000: pay off debts, build up your savings account or take a vacation, perhaps?
It's especially pricey when you consider how many shows, events, films and more you can watch free of charge. All you need is an antenna.
Better still is that over-the-air television antennas are very affordable. The price of OTA TV antennas varies, but you can easily purchase an indoor antenna for less than $100. Even outdoor antennas (which are great if you live far from a broadcast tower or have large obstructions nearby, such as tall buildings or hills) are inexpensive when compared to subscription services. While the best outdoor antennas typically run between $100 and $200, you can find some for less.
Either way, buying an antenna once will likely cost less than a single month of cable, satellite or multiple streaming services. And you can watch television for free for the lifetime of the device without ever spending another dime.
Having too many choices can also have a negative effect. There are more than 200 streaming services, with no two alike. In a 2021 survey, Verizon Media and Publicis Media found that 67% of people who use streaming services have difficulty deciding what to watch because there is too much content available.
What Shows You Can Get With Over-the-Air Broadcast TV
OTA TV is high-definition television broadcasts from local television stations. All you need to start watching is a TV and an antenna. If you want the ability to watch what you want whenever you want, you can add an OTA DVR like Tablo and record live TV. Tablo is a device that does a few things to enhance your TV antenna (it works with any TV antenna):
It takes your TV antenna signal and wirelessly sends it to any screen in your home. This reduces the need for cables and splitters (or multiple antennas) and you can enjoy watching your favorite shows on devices like your phone, tablet or computer.
Record, pause, go back and replay: never miss a thing with Tablo's capabilities to record shows and watch them later when convenient for you.
TV Guide: included with Tablo is a TV guide — see what's on now or later.
Get A Clearer Picture With A TV Antenna
Another benefit of OTA television is improved picture quality as a result of lower channel density. While you cannot use a TV antenna to pick up cable channels, you can get many national broadcast channels, such as CBS, NBC, ABC, FOX, PBS, ION and various local stations. It's also a good idea to rescan your television every three months, as new channels may be available.
With OTA TV, you can enjoy everything from local news and weather, sports and major events, sitcoms and game shows, movies and loads of other free broadcasts. You can find shows you know you enjoy watching and you will likely discover new favorites, just by browsing what's on at the moment.
And when cable, satellite or internet service is unavailable, such as during severe weather, outages or emergencies, you can still watch local news channels, get weather alerts or enjoy your favorite shows when you have a TV antenna.
How To Watch TV For Free
First, take our short quiz to determine which antenna is best for you. Once you choose an antenna and connect it to your TV, you can perform a channel scan to find available stations.
If you live in an urban area or nearby suburb:
Antennas Direct ClearStream Eclipse Amplified TV Antenna
$64.99 from Amazon
This highly-rated indoor antenna is designed to receive frequencies 50+ miles away from broadcast towers. It easily grips smooth surfaces like walls or windows for optimal placement to pick up as many channels as possible.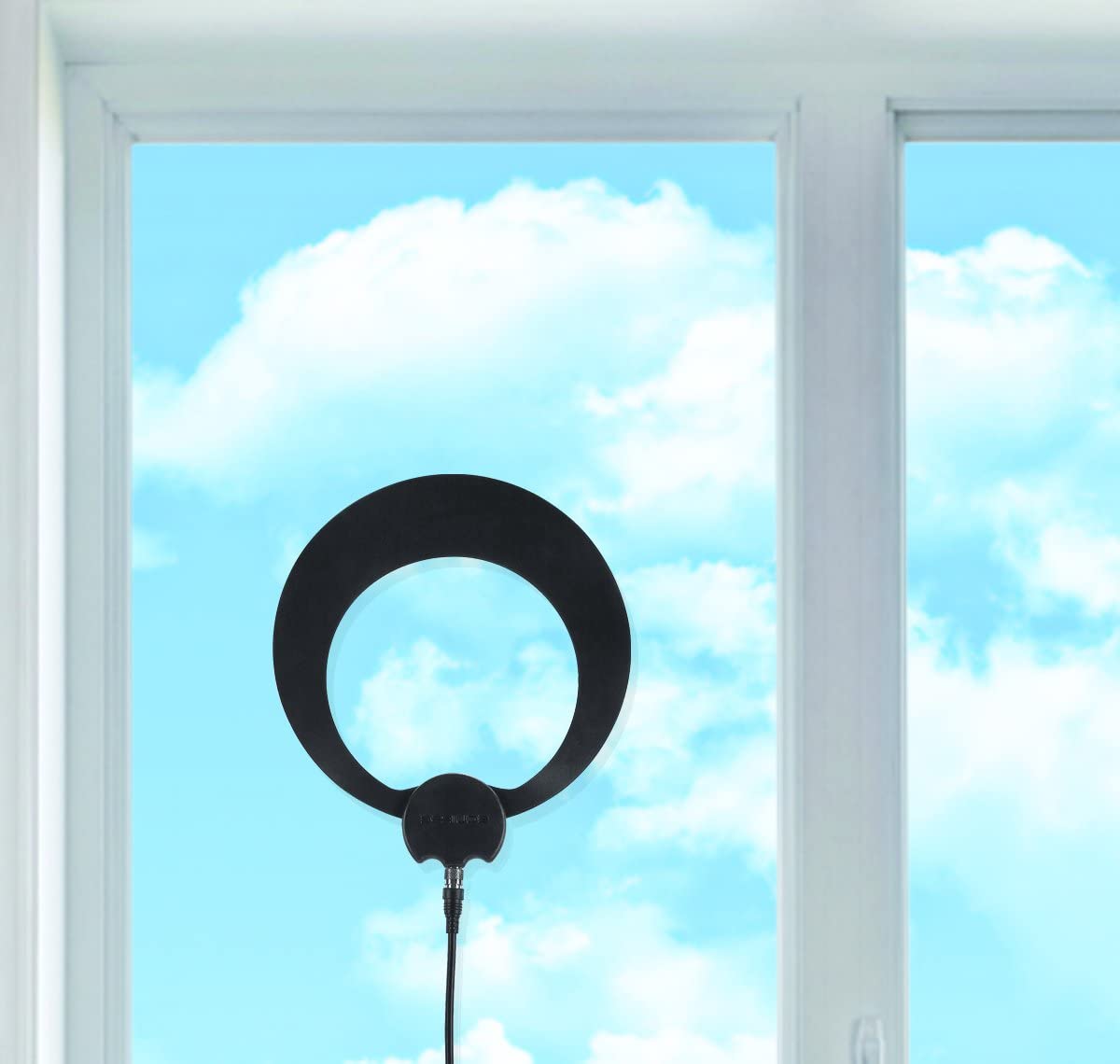 Recommended antenna if you live in a far suburb or rural area: 
Antennas Direct ClearStream 4V TV Antenna
$130.20 from Amazon
This powerful antenna has a range of 70+ miles and can be installed inside, outside or in the attic. It has UHF and VHF multi-directional elements designed to deliver reception in remote areas.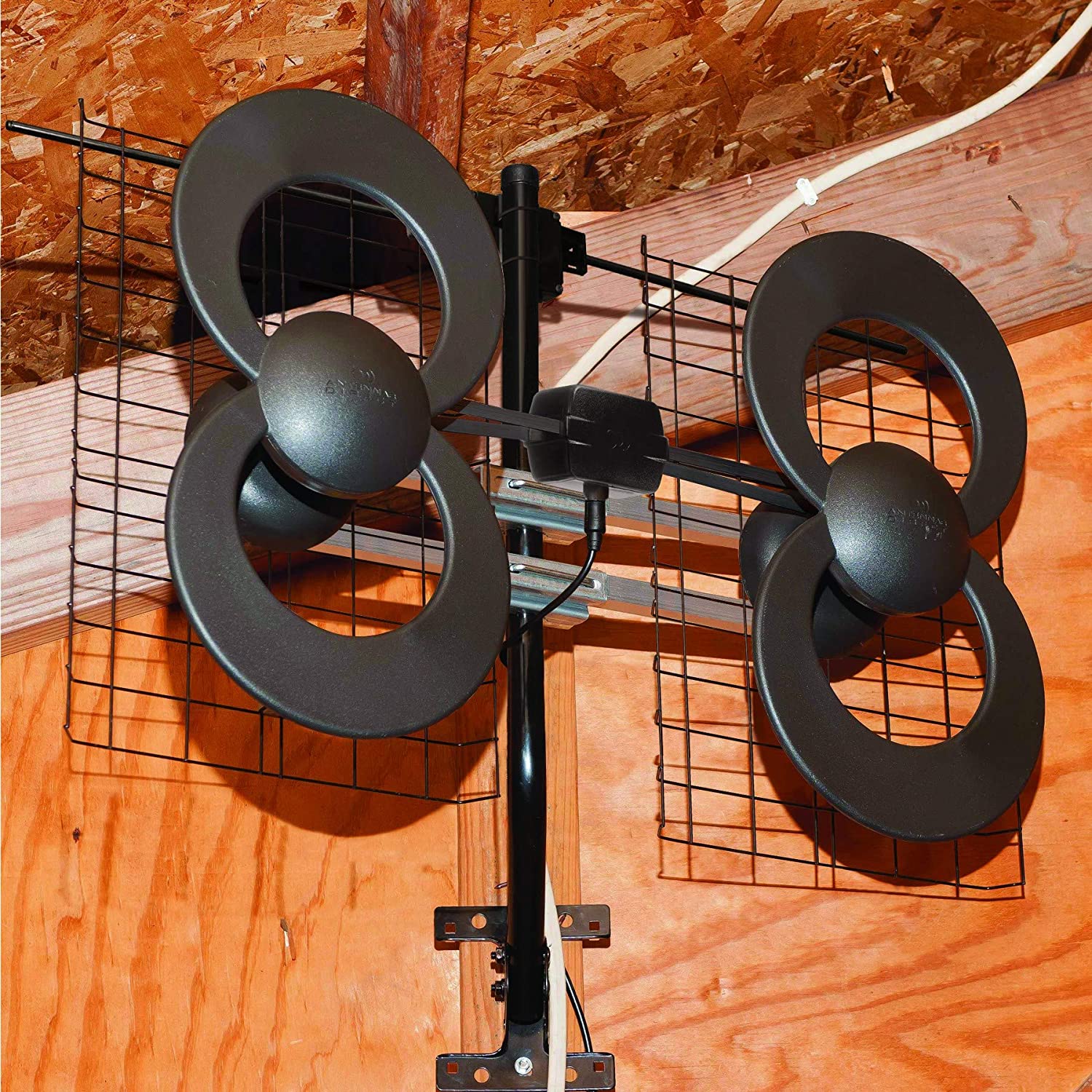 Pair your antenna with an Tablo to record your favorite shows:
You can record, pause, rewind and fast forward with an OTA DVR device. Here are the products we recommend:
Consider these options as cheaper alternatives if you have an external hard drive sitting at home collecting dust. Then, connect your antenna and portable hard drive to these Tablo DVR devices and you're ready to go.
Tablo DUAL Lite: Equipped with built-in Wi-Fi, it lets you position the antenna and DVR for the best signal reception.
Tablo QUAD: R

ecord up to four OTA channels simultaneously. This model connects to your router rather than your TV, allowing you to stream live TV to any device.
If you need to purchase a portable hard drive, we suggest using USB-connected portable hard drives (USB 2.0 or 3.0, 1 TB to 8 TB in size). We recommend WD 1TB Elements Portable External Hard Drive and the WD 2TB Elements Portable External Hard Drive.