You may be aware of some of the advantages of watching over-the-air television. For instance, you can watch sports, movies and shows without the internet and enjoy a clear, crisp picture superior to cable or satellite. Of course, a digital TV antenna can also save you money. But when you think about a television antenna, perhaps you envision the clunky, monstrous set and unsightly, protruding rabbit ears in your parents' or grandparents' living room. And that is not the aesthetic you're striving to attain.
The good news is that modern digital antennas can be small, inconspicuous and not at all distracting. So you can find a powerful, functional indoor antenna that doesn't disrupt your home decor, either because it is unobtrusive or can easily be hidden.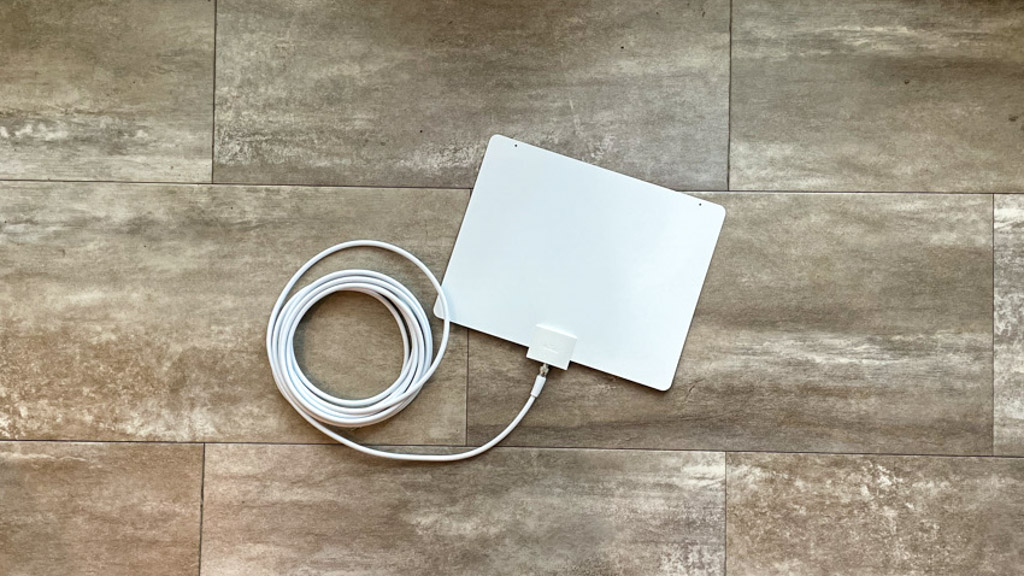 Discreet Antenna Options
There are two basic types of OTA antennas: Indoor and outdoor. While outdoor antennas tend to be larger, they are only visible outside your home. Even then, they are often not prominent. Outdoor antennas can be installed on rooftops, positioned outside windows or mounted on poles. And although the installation may be a bit challenging, outdoor antennas are very affordable and often pick up more channels than indoor antennas do.
Modern indoor antennas are typically little and unassuming. Some are mounted on small stands, while others hang on a window or wall. And while there are models with adjustable metal rods, they aren't your grandma's rabbit ears. Instead, they typically have sleek, minimalistic designs that blend well with any decor.
Flat antennas often look like small mats or discs. These antennas have no "ears" protruding from them. Instead, they can be placed inconspicuously on a piece of furniture, such as your TV stand, or mounted flat on a window or wall.
A third option is an amplified antenna bar. These indoor digital TV antennas resemble soundbars. Most can be placed horizontally on a TV stand or entertainment center, while some can also stand upright, similar to a speaker.
Indoor antennas are extremely simple to install. In most cases, all that is required is connecting a cable from the antenna to your television. Then you can find a place where it is not largely noticeable and gets good reception.
How to Hide a TV Antenna
If you opt for an indoor antenna but would rather not see it much if at all, there are ways to conceal them. For instance, if your television is on a stand, you might be able to place a standing antenna or hang a flat antenna directly behind it. You can obscure the wires by securing them to the back of the stand, tucking them into a length of tubing or even running them through the wall.
Large, leafy plants can be ideal for concealing a small antenna. Alternatively, you could tuck it into a big, decorative basket or obscure it with a stack of books, artwork or other home decor items.
Whether you choose an indoor or outdoor antenna, one thing they all have in common is functionality. But, ultimately, selecting the best one will depend on your area's reception and your taste.